What is Nectar?
Simply put, Nectar is one of the largest Loyalty card schemes in the UK. Launched in 2002, it initially covered just 4 partner companies- Sainsbury, BP, Barclaycard, and Debenhams. It was a combination of the loyalty schemes of all 4 companies(except Debenhams which had no loyalty card scheme back then).  For a club card with such a humble beginning, it now boasts of 500 brands and over 16.8million users and covers everything from food, travel, fuel, retail, newspapers and more! Although the ownership of Nectar did change a few hands, Sainsbury acquired it in 2018 for a whopping £60 million. Sainsbury has since been trying out new Nectar point earning scheme which considers user's loyalty (as in how long he/she has owned the Nectar Club card for) and frequency of visits rather than the amount spent. This experiment means that your 'loyalty' towards the brand, indeed, is the only factor that matters. A pretty good idea for a loyalty scheme, isn't it? This scheme launched in April 2018 is currently limited to stores of Isle of Wight.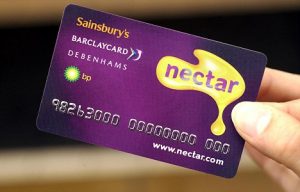 Why Nectar?
Although the point-to-pound spent loyalty card scheme is an enticing factor for its userbase, the main reason for their success is the number of brands and industries it covers. A Nectar club card can get you points for air miles, train rides, filling fuel, buying groceries, purchasing newspapers, making calls, send couriers, shopping for a computer or even just munching on Pizza. See how one single loyalty card helps you earn loyalty points for almost every pound you spend?  Moreover, Nectar gives you weekly updates on offers that are tailored to your specific shopping pattern which means you get even more value for your money.
So if you are in the UK, get a Nectar card for sure! Also, don't worry about adding one more plastic loyalty card into your wallet, scan your card into our Reward Cards app and store it there without any hassle of a bulky wallet. You get to see your loyalty points and offers all in one place.
Best Way to spend Nectar Points:
So the most commonly asked question regarding Nectar points is what is the best way to spend it. We can give some of the best ways.
Always start with Sainsbury's, eBay, Expedia, Train Tickets.
There are many shops included like House of Fraser 4 points for £1, Apple gives you 5 points for £1,  Get 2 points when you shop at Toys R Us. Treat your kids at Disney Store and get 2 points per £1. If you have any more ways pls comment below with suggestions.
Nectar Loyalty points:
With Nectar's Free loyalty program, you get points when you buy from their partners. You can spend these points in any way you choose, be it hotel reservations on Expedia or some home electronics in Currys or maybe that latest iPhone.
It is quite simple to register your card. https://www.nectar.com/login
Register your card here and start availing points and offers as you shop! Download our Loyalty cards app to keep all your club cards in one place.